Spot Welders
Used Welding Equipment
Electrodes
Entron Welding Controls
Dynaflux Cooling Systems
The Kranitz Corporation
2850 Northwoods Road
Port Washington, WI 53074
262-242-4410
Fax: 262-242-4411

Shipping Address
704 10th Ave
Grafton, WI 53024
Special Machines
The Kranitz Corporation has built several special machines for their customers. Below, we show just a few of them.

We have built several A-Frame machines. These are multi-gun pass thru welders. The machine shown had four transformers and 12 guns. They were fired using a four cascade Entron control. The operator pushed the part through manually.
In the same theme as the above machine, we have recently finished and shipped a robotic version of our A-frame machine. The machine shown below had 16 guns, four transformers, and was fired using a cascade control. With this machine, the operator pushes the jig into a holder which is automatically fed through the machine. While the machine welds, the operator loads a duplicate jig with the next parts. In this way, the production is greatly sped up. When the part is finished, the jig is slide into a elevator style loading station, and the next jig is slide into the automatic section of the machine.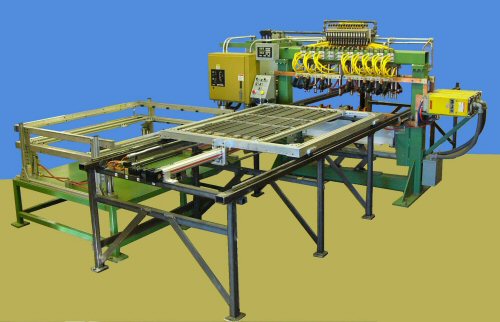 | | |
| --- | --- |
| This is a turn table welder with a single weld gun. The table indexed automatically to eight index stations. The consumable part of this machine was the upper weld tip and the eight lower weld dies. | |
| | Shown here is a 12-gun multi-gun . The part is loaded, a ram comes down from above and holds the part, and then the guns come up from below in three sequences of four guns each. The sequencing was done using an Entron control. |
| This machine is a simple 2-gun multigun. The guns can be adjusted along the x-axis for different parts. The control for this machine is not shown. | |
| | This machine is a 12 gun A-frame machine. Parts were loaded into a welding die, and then slid under the gun pneumatically. All the guns came down and were fired using an Entron Cascade control. Each transformer fired two guns. At the end of the cycle, the welding die came back out automatically for reloading. |